GENERAL ADMISSION – DAY PASS
Early Bird $49
+ Ticketing Fee. Ends 31st May
Final Release $59
+ Ticketing Fee. *From 1st June
Early Bird $34
+ Ticketing Fee. Ends 31st May
Final Release $39
+ Ticketing Fee. *From 1st June
Early Bird $24
+ Ticketing Fee. Ends 31st May
Final Release $29
+ Ticketing Fee. *From 1st June
Family Day
2 Adult, 2 Children or 1 Adult, 3 Children
Early Bird $120
+ Ticketing Fee. Ends 31st May
Final Release $140
+ Ticketing Fee. *FROM 1ST JUNE
Child Day
under 5 years old
FREE
when accompanied with a paid ticket holder
GENERAL ADMISSION – WEEKEND PASS
Early Bird $75
+ Ticketing Fee. Ends 31st May
Final Release $85
+ Ticketing Fee. *FROM 1ST JUNE
Early Bird $59
+ Ticketing Fee. Ends 31st May
Final Release $64
*FROM 1ST JUNE
Early Bird $35
+ Ticketing Fee. Ends 31st May
Final Release $40
+ Ticketing Fee. *FROM 1ST JUNE
Weekend Family
2 Adult, 2 Children or 1 Adult, 3 Children
Early Bird $165
+ Ticketing Fee. Ends 31st May
Final Release $195
+ Ticketing Fee. *FROM 1ST JUNE
The VIP experience provides patrons with a medieval adventure worthy of nobility.
Your VIP ticket to the Abbey Medieval Festival Tournament includes:
Exclusive VIP parking close to Abbeystowe
Priority entry through your own VIP gate at 8:30am.
Exclusive access to the VIP area overlooking the joust arena. Our hosts will serve you authentic food and drink (alcoholic and non-alcoholic)
Superb views of the Joust (includes

 

3 joust sessions)
Up-close and personal interactions with our jousters, entertainers and much more.
Tickets are extremely limited
3 Sessions
10:45am | 1:00pm | 3:00pm
$5 ea
Saturday + Sunday | 3 Sessions | Price per session
Nothing excites like the thrill of the joust! Knights go head to head at 30kph and clash at the centre of the list!
Australia's top jousters face off in a round robin format each day of the Festival. There are three sessions on both Saturday and Sunday. Points are accumulated to the scoring criteria, then the three highest scoring jousters will battle in the grand final on Sunday at 3pm to crown our new 2023 Moreton Bay Medieval Joust Championship champion!
Tickets are limited! Don't miss out before they sell out!
BANQUET – SATURDAY 1ST JULY
TICKETS SOLD SEPARATELY  – AVAILABLE SOON
The Abbey Medieval Banquet will be hosted at the Great Hall at St Michael's College near Caboolture on Saturday 1st July 2023.
The Steward of the Hall, Sir Blair Martin, will guide patrons through an evening of feasting and entertainment, including music, pageantry and dance.
Tickets are limited! Don't miss out before they sell out!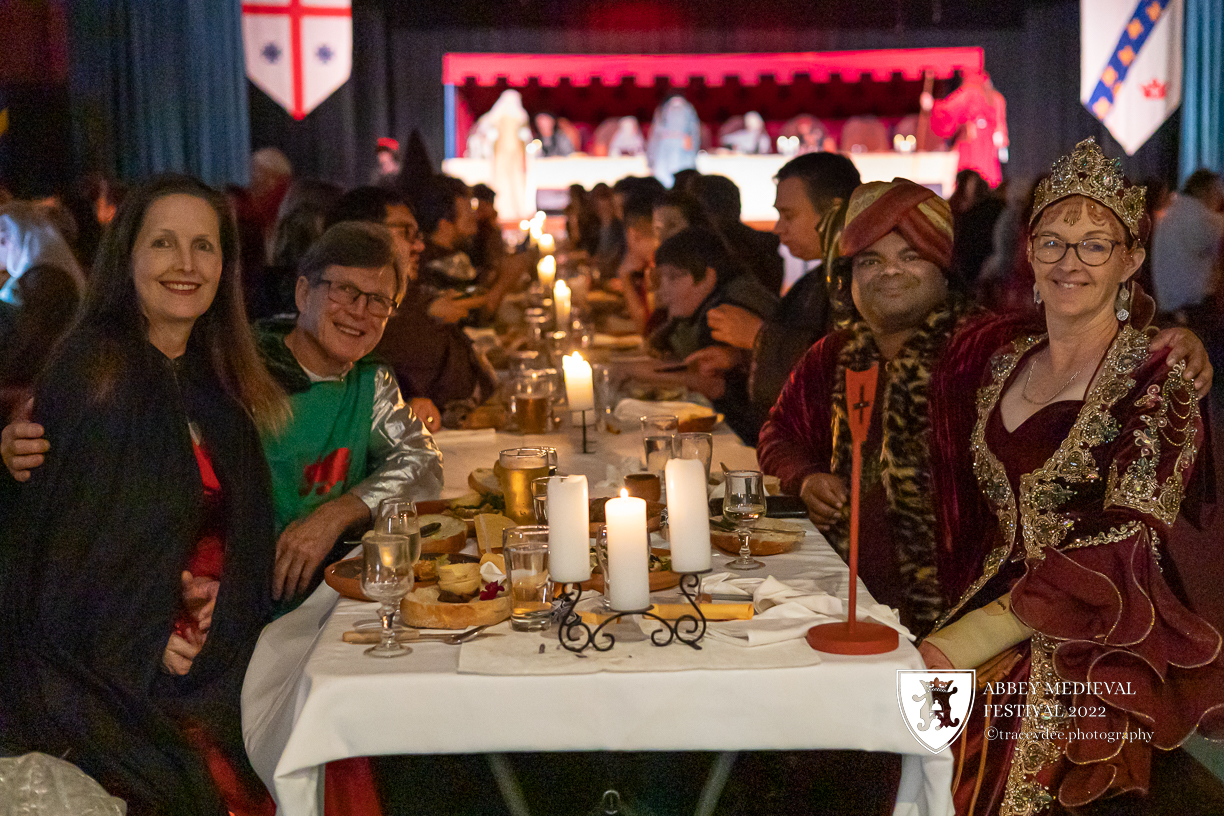 SPECIAL THANKS TO OUR SPONSORS